Quality time with clients

When you employ an Oxygen Party Bar in your booth and give away 3-5 minute sessions of oxygen. You gain quality time with potential customers. We staff the bar and serve the oxygen; and you are free to network with your customers. The popularity of the Oxygen Party Bar will attract visitors that would normally not stop to learn about you and your company, and increase the returns from your investment in the show.

In a normal trade show, you have 30 seconds to make an impression on a potential customer while they are walking past your booth and if you fail, they are gone forever. With an oxygen bar they stop for free oxygen and are actually tied to your booth for 3 to 5 minutes via the oxygen line. We train our girls to spend the first 30 seconds connecting them to the oxygen and explaining how to sample the different aromas, then they are instructed go quiet and you now have quality time with the guest to introduce your product line. This benefit makes your trade booth 100 percent more efficient because of the quality time you have with potential customers.
After 3 to 5 minutes of oxygen, your guests experience a euphoric feeling they associate with you and your product line. This is a real win win situation. After 5 years of trade shows, we know how to make you booth more successful.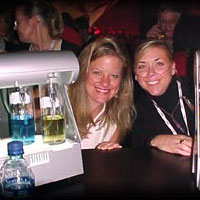 Late in the day when your sales reps are tired and not going that extra mile, treat them to an energy boost with an oxygen session and watch them hustle. You can expect some of their most powerful work following an oxygen session.
Some exhibitors give massages, while others spin a wheel of fortune to give away gifts. The problem with these gimmicks, you are spending your time spinning the wheel and not gaining quality time with your customers. With our operation, we run the bar and you network with potential customers.
Operational space required is 10" wide x 8' deep. The bar measures 7' x 2 1/2'. Power requirements are 110 volts, 15 amps. A corner space works best for a single booth.
---
Realtors Convention

For years Washington Mutual would employ an oxygen bar, masseuses, magicians, and even a locksmith to make duplicate house keys to attract Realtors to their booth at the Realtors Convention. They would staff their booth with about 30 loan agents working alternate schedules over 3 days to network with the Real Estate Agents. After a few years they realized that 2 oxygen bars worked best because they had quality time to network with customers. Every loan agent developed new contacts and said it was their best convention yet.
---
ADVERTISE YOUR COMPANY NAME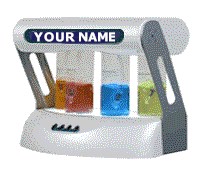 We can provide you with personalized advertising on each oxygen dispenser. On the left, the name Oxygen Party Bar is replaced with your company logo and or name. There is a fee of $100 per oxygen party bar for 4 signs. While your guest is connected to the Oxygen Party Bar, your advertising will be the most obvious thing they see. All we need is a JPEG image of your logo, Corporate name, or message and about 1 week to have them made.
Additionally, we can provide corporate branding on each canula. Your customer keeps the canula and your message will be attached to each canula. The cost is $39 per 100 canulas. For the price this is a very effective means of advertising and is surprisingly effective at getting your message across.
---
For information on Oxygen Party Bars contact Herb Halling

(562) 594-8265