Trade Show Plan
A Novel Approach to Traffic.
There are several good techniques for using an Oxygen Party Bar at your trade show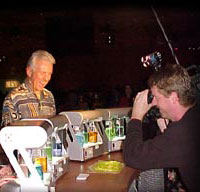 The most common is to employ an oxygen bar in your booth and give away 5 minute sessions at the oxygen bar. You can give special customers coupons for inquiring about your products that entitle them to a 5 minute session. The popularity of the Oxygen Party Bar will attract visitors that would normally not stop to learn about you.
While your guest is enjoying the oxygen, they are your captive audience for 5 minutes while you find out what they need and close your sale, or introduce your product line.
After 5 minutes, your guests experience a euphoric feeling they associate with you and your product line. This is a real win win situation.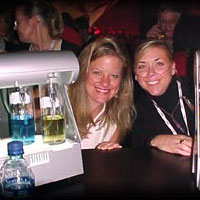 Late in the day when your sales reps are tired and not going that extra mile, treat them to an energy boost with an oxygen session and watch them hustle. You can expect some of their most powerful work following an oxygen session.
You can provide your "Attractive-Sexy" staff to operate the oxygen bar and we will train them and provide all the supplies needed for the entire show. Training takes less than 1 hour. Operational space required is 10" x 6'. The bar measures 7' x 2'. Power requirements are 110 volts, 15 amps.
---
For information on Oxygen Party Bars contact Herb Halling
call us at (562) 594-8265