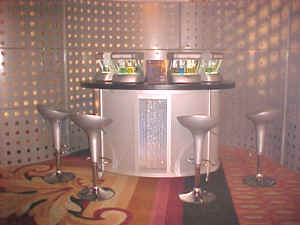 Oxygen Party Bar employs modern oxygen concentrators that provide up to 95% oxygen with 16 different aromas for fun. Every one gets a disposable nose canula to keep as a souvenir to show they are a member of the oxygen club. We are the leading mobile oxygen bar business with multiple oxygen bars for rent and we are ready to meet your party needs. How many oxygen bars do you need?

Phone (562) 594-8265
Oxygen Party Bar is the leading Mobil oxygen bar business in the Southwest and we have been doing serving bar/bat mitzvahs longer than any one else in California. We provide Oxygen Bars for your event at low prices. Whether you are hosting an event for 50 of 50,000 people, we are the oxygen bar to call. We serve fun with oxygen bars in Los Angeles and Orange counties.
Oxygen Party Bar rentals are where bottled water was 20 years ago. Today every event planner wants to put one in their event. Tomorrow every public building will be required to have an oxygen party bar. Safe for children and adults.
Oxygen Party Bar rental is located in Southern California and has been renting Oxygen Bars to bar/bat mitzvahs for over 18 years. If you want something different for your child's coming of age event, think of an oxygen party bar. We work with event planners to provide Oxygen Bar rentals in Los Angeles and Orange Counties. We provide Oxygen Bar rentals for private parties, bar mitzvahs, sweet 16 parties, corporate events and trade shows. We look forward to serving fun and oxygen at your bar/bat mitzvah.

Oxygen Party Bar is a family owned business and you can count on our personal supervision at your event.
---
For information on Oxygen Party Bars contact Herb Halling at
Oxygen Party Bar
2622 Kempton Drive
Los Alamitos, CA 90720

call us at (562) 594-8265 Office (afternoon)
Cell (562) 252-6004