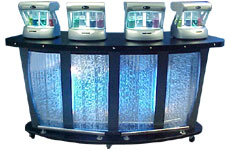 Paradise Bar with 4 Bubble Windows
Treat your customers to a breath of oxygen and they will be re-energized and feel good about your product line. Oxygen can provide a euphoric feeling when breathing higher concentrations of oxygen.
BENEFITS
Your show will attract a large crowd with your Oxygen Party Bar
Your customers will feel euphoric towards you and your product line when you treat them to oxygen.
Your sales reps will have added energy to make your show a big hit.
Your customers will be a captive audience while at the oxygen bar
Your bottom line will amaze you.